The cryptocurrency landscape has been obsessed with the famous bull run of Winter 2017, but as bitcoin has surpassed its all-time high price of $19,655, the world of crypto may be venturing toward uncharted territory.
There are many factors that went into the mix in creating the right environment for bitcoin to surpass its highs of 2017. The COVID-19 market crash during the spring of 2020 saw BTC fall to around $5,000 momentarily before the prospect of a strong recovery drove fresh investment. Bitcoin's movement was further bolstered later in the year by the news that PayPal would be accommodating the buying and selling of the cryptocurrency, as well as uncertainty wrought by the U.S. presidential election.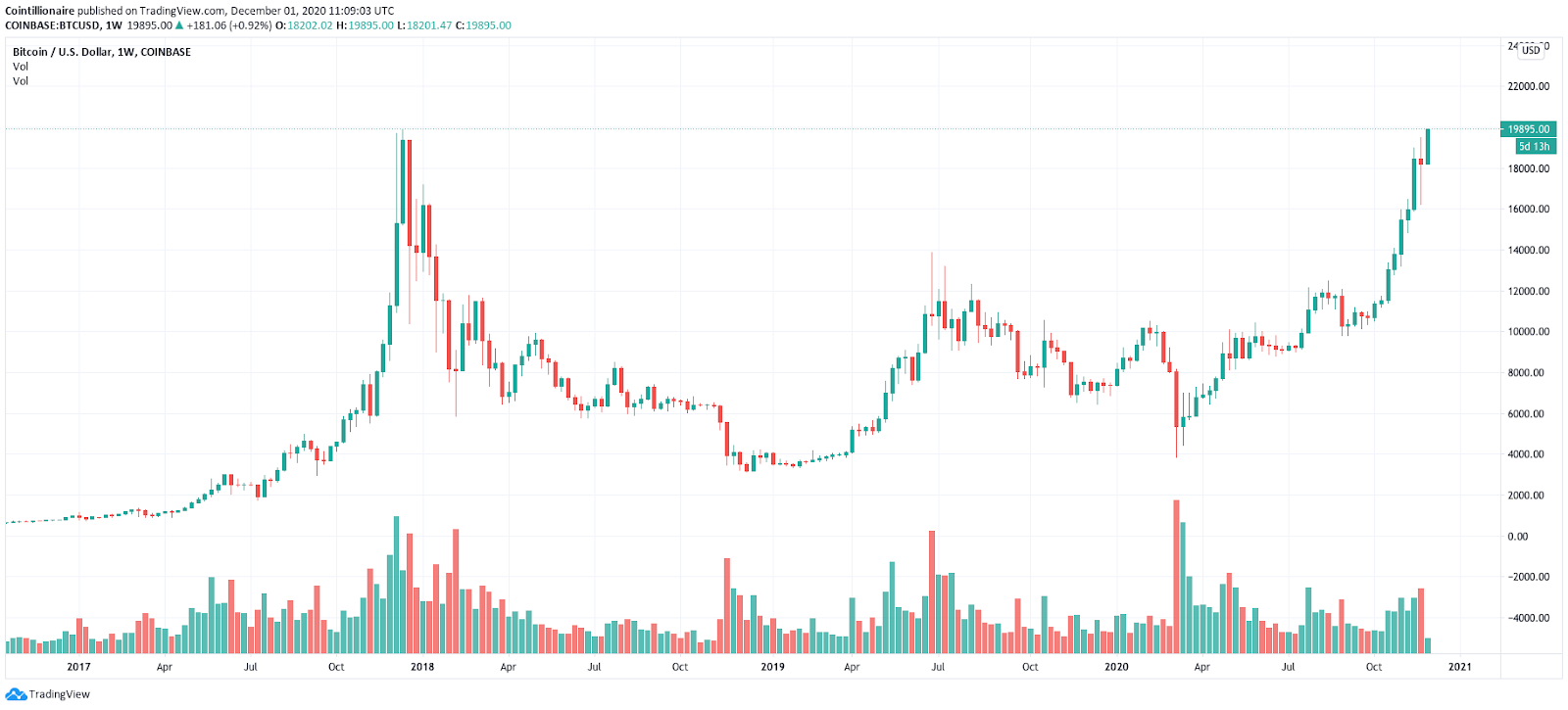 But what happens next? Bitcoin in recent weeks has recorded a sharp rise in value, gaining as much as 45.8 percent in just one month and crossing an all-time price high, per numerous exchanges. But is the rise sustainable? Or will the world's most popular digital asset come crashing back down to earth?
Building On Market Capitalization
Significantly, bitcoin's market capitalization has grown alongside its snowballing price tag. The market cap of bitcoin surpassed its own all-time high mark on November 17, 2020. The growth of bitcoin's market capitalization has been so astronomical that it's now surpassed the likes of PayPal, Netflix, Coca-Cola and Disney to sit among the top 18 largest commercial companies in the world.
The larger the market cap, the more sustainable a significant price run is likely to be. This latest boost to bitcoin's market capitalization has been driven by significant investment from companies like Square and MicroStrategy, as well as the larger levels of accessibility that's been provided by PayPal making the digital currency available to its 286 million-strong userbase.
In another boost to the appeal of bitcoin, the cryptocurrency's supply is being squeezed following its halving event earlier in 2020 — this is due to less bitcoin being released as a mining subsidy per block.
Changing Investor Behavior
Following bitcoin's 2017 rally, a significant crash occurred that the crypto market spent much of the following two years picking itself up from. However, investor behavior today appears to be different to that of 2017.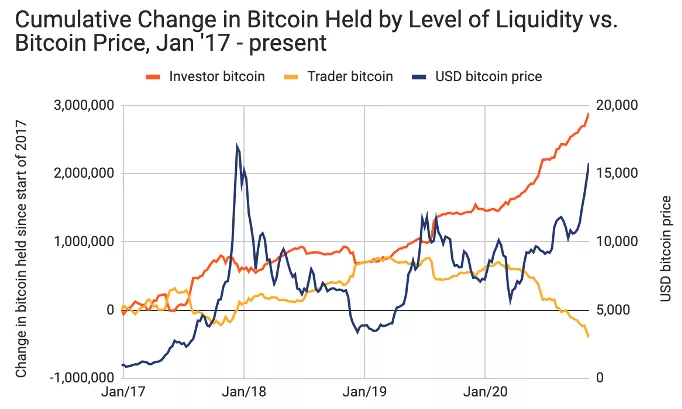 As the chart above indicates, bitcoin has become a far more popular asset for investors on the run-up toward 2020. More wallets that typically buy and hold cryptocurrencies are turning to bitcoin as a crypto safe haven, while fewer cryptocurrency wallets are involved in high magnitudes of trading.
The chart also shows that there's a correlation between a slowing of holder accumulation and a fall in the value of bitcoin. More long-term investment should mean more stability and sustainability when it comes to growth, and as we can see, there's no sign of long-term BTC investment slowing down right now.
The present landscape also has a significant number of high-quality and trustworthy crypto exchanges that have emerged since 2017. This has further helped to leverage growth and confidence in newer investors in a way that can help safeguard bitcoin's long-term trajectory.
Paving The Way To The Moon
"Back in March, I predicted that BTC could reach $50,000 by end-2020 and now there is increasing evidence of that upward trend," said Antoni Trenchev, co-founder and managing partner at crypto platform Nexo, speaking to Decrypt. "Markets like round numbers — Bitcoin passed $16,000, then $18,000 in a matter of days. The next stop is $20,000,"
"$50,000 by the end of this year is not at all unlikely," he continued. "This will be a record not driven by frenzy, but by the big, forward-thinking, finance and technology-savvy institutions that will push crypto into the mainstream."
Could bitcoin be heading to the moon? Some commentators are claiming that the cryptocurrency will hit highs of $300,000 within a year, fuelling speculation that this could be a key moment in bitcoin's mainstream adoption.
According to a leaked Citibank report, a future bitcoin rally "could potentially peak in December 2021… Suggesting a move as high as $318,000."
"Improbable though that seems it would only be a low to high rally of 102 times (the weakest rally so far in percentage terms) at a point where the arguments in favour of bitcoin could well be at their most persuasive ever," the report, entitled "Bitcoin: 21st Century Gold," claimed.
The Dangers Of Volatility Remain
However, investors need to be aware that although the outlook seems promising surrounding bitcoin, the world of cryptocurrencies has been punctuated by spectacular rallies before devastating losses occur. 
According to Fortune's The Ledger newsletter, "the short answer is that a collapse is all but inevitable — assets that go up 400% are due for a correction." However, the article noted that a future fall won't be nearly as severe as before, due to the volume of investment within the currency. The article concludes that this might mean that a future correction could leave bitcoin at around $8,000 — as opposed to $2,000 — signifying a potential area for new investors to wait for before making a purchase. 
Today, bitcoin looks stronger than ever, so it's perfectly in-character for cryptocurrency commentators to be predicting lunar launches to over $300,000 as well as crashes toward $8,000 in the same calendar year. 
As the world's most famous cryptocurrency surpasses its all-time high price, it will enter uncharted territory. But with the backing of high volumes of long-term investors and the support of huge international payments corporations, the bull run of 2020 may well put an end to the nostalgia of 2017's millionaire-making chaos.